Experience the magnificence of a wild animal regaining its freedom
Injured and orphaned native Oregon wildlife are cared for by generous volunteers and nonprofits across the state.

The release of their patients back into the wild is a time of joy and gratification for those hard-working individuals.

Wings over Wine was conceived to invite everyone to share in this joy while simultaneously raising awareness and funding to continue their work.

Vineyards provide excellent release sites for the success of the bird, for natural pest management and for the opportunity for the public to participate.

Everyone Benefits!
The bird of prey is provided a safe and profitable new hunting territory
The vineyard provides a once in a lifetime experience to its clientele
The funds received provide medical care and rehabilitation for future patients and avian ambassadors
Wine and wildlife lovers enjoy a photo opportunity with our avian ambassadors
Make an Event Out of It!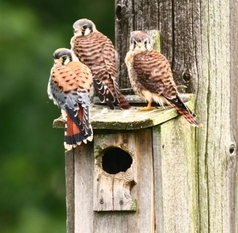 We envision a special event at your vineyard that you can market to your wine club members and loyal patrons that includes the opportunity for your guests to take pictures with and learn about owls, hawks and falcons until the release which may either be viewed from a distance or on a closed circuit broadcast.

You decide the best format to maximize the value of the bird of prey release event.

Options can include a tasting with hors d'oeuvres, a winemakers dinner or any other format that works for your vineyard and clientele.

Wings Over Wine will bring one or more ambassador birds of prey for your guests to learn about and interact with.

The vineyard can enjoy the PR opportunity regarding their commitment to conservation of native Oregon birds of prey.

---
Because we are dealing native wildlife, the event MUST conform to the guidelines set by ODFW and USFWS.

The event may NOT be used in a commercial manner to generate revenue for the release site.

The vineyard may not charge for tastings but is permitted to sell its bottles or wine an other products.

The fees collected to attend must be applied to the care and management of the wildlife. (Wings Over Wine benefits one or more of the state certified wildlife rehabilitation facilities in Oregon)

The fee to attend may be applied to the catering of the event.

The event must be open to everyone. No additional marketing beyond the vineyard's mailing list is mandated but the vineyard may certainly choose to reach beyond its established clientele.

The public may interact with our avian ambassador education birds but may not have any contact with the raptor to be released.

All Wings over Wine releases comply with US Fish & Wildlife Service (USFWS) and Oregon Department of Fish and Wildlife (ODFW) guidelines to ensure the safety of both the wildlife and the public.